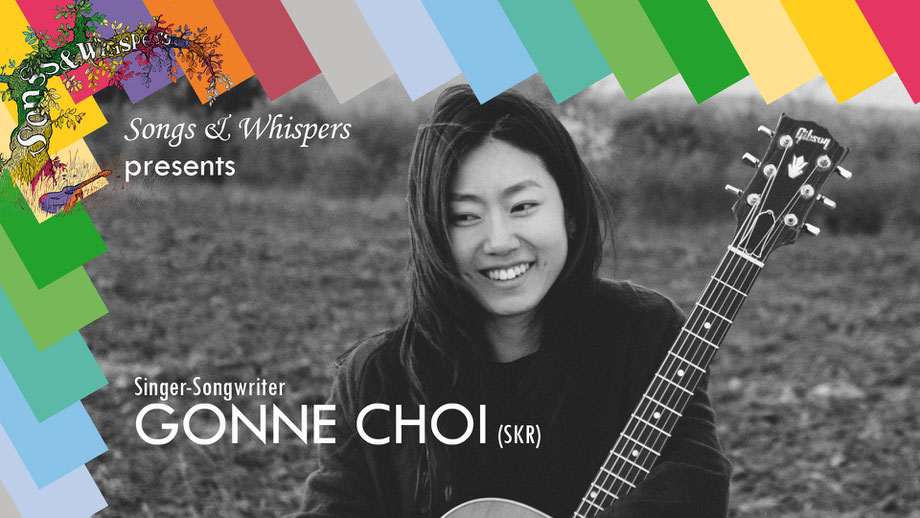 English
Following numerous TV projects, and soundtracks, Gonne Choi will be touring with her fourth EP "Nomad Syndrome" on an extensive Europe Tour.
"Nomad Syndrome" is a call to action, and urged her to tour. With a group of up to five musicians and the new EP in the bag, she will be touring throughout Europe. On the schedule in November are among churches, , clubs and showcase also national storyteller festivals. Following her tour I 2012 she will be showcasing the diversity and uniqueness of Korean Music to a European audience once more.
Her previous album "4 Our Seassons" ("SONGS & WHISPERS" / Broken Silence) was recorded during her tour in 2012 on quirky and unique locations, whereas "Nomad Syndrome" was created in a Korean Studio. The EP was release in 2017 on "Modest Monster" with distribution by Leeway as is available worldwide as stream and download. Gonne Choi is the sole author of "Nomad Syndrome". The five songs surprise with a unique sound and a special mix of genres without sounding generic. The Lyrics are in English and Korean and is a strong display of Gonne Choi's musical development during the last few years.
The tour from 1st to the 24th of November provides a glimpse into the Korean music scene and one of its most unique members. Don't miss out and experience it live!
deutsch
Nach zahlreichen TV Projekten und Soundtracks geht die koreanische Performerin Gonne Choi mit Ihrer vierten EP "Nomad Syndrome", erneut auf eine ausgedehnte musikalische "Reise" durch Europa.
"Nomad Syndrome", der Name ist Programm, verpflichtet zum Touren. Mit einer bis zu fünfköpfigen Band und der EP im Gepäck wird Gonne Choi im November 2019 in mehreren europäischen Ländern unterwegs sein. Auf dem Tourplan im November 2019 stehen neben Kirchen, Clubs auch Showcase - und nationale Erzählfestivals. Nach ihrer ersten Tour im Jahr 2012 wird Gonne Choi so einmal mehr, die faszinierende Bandbreite der aktuellen Musikszene Koreas unter Beweis stellen.
Wurde das Album "4 Our Seasons" ("SONGS & WHISPERS" / Broken Silence) im Rahmen einer Europatournee im Jahr 2012, an mitunter ungewöhnlichen Orten wie Waschsalons und Heizungskellern auf Tour eingespielt so ist die EP "Nomad Syndrome" im Studio in Korea entstanden. Die EP wurde Ende 2017 auf dem Label "Modest Monster" im Vertrieb von Leeway veröffentlicht und ist weltweit als Download und Stream verfügbar. Gonne Choi zeichnet für Text und  Komposition auf "Nomad Syndrome" alleine verantwortlich. Die fünf Songs überraschen mit einem speziellen Sound und spannenden Stilmix ohne dabei beliebig zu wirken. Die EP mit Texten in Englisch und Koreanischen Lyrics spiegelt die musikalische Entwicklung von Gonne Choi der letzten Jahre deutlich wider.
Die aktuelle Tournee vom 01.10 bis zum 24.11.2019 präsentiert eine spannende Vertreterin der koreanischen Musikszene live auf Europa - Tournee.
Überzeugt Euch selbst beim Konzert!
---
Tour Dates
01.11.19    Eiscafé Dante    Horneburg    19:00
02.11.19    Kulturgarage @ Alte Papierfabrik    Greiz    20:00
03.11.19    Feuerspuren    Bremen    16:40
04.11.19    Live-Club Bamberg    Bamberg    21:00
05.11.19    HAPPENING - Woche    Reichenbach    19:00
06.11.19    Nunatak    Bremen    19:00
07.11.19    "de Muziekdoos" on Radio Central    Antwerpen    14:30
07.11.19    Snuffel    Brugge    20:00
08.11.19    Zennegat 13    Mechelen    19:30
09.11.19    Wim´s Muziekkelder    Doetinchem    15:30
09.11.19    De Gruitpoort    Doetinchem    20:30
12.11.19    Kirchengemeinde St. Jürgen Holtrop    Großefehn    20:00
14.11.19    St. Martin Kirche Dorfmark    Bad Fallingbostel    20:00
16.11.19    Beethoven    Düsseldorf    20:00
17.11.19    Jürgens Räucherkate    Stiepelse    13:00
19.11.19    Theatersaal Universität Bremen    Bremen    12:30
20.11.19    Für Elise    Bremen    17:00
22.11.19    The Liberty Hotel    Bremerhaven    20:00
23.11.19    Shakespeare´s Theater-Pub im Weyher Theater    Weyhe    22:00
24.11.19    Kulturschloss Wandsbek    Hamburg    19:00
---
Stream her newest album here: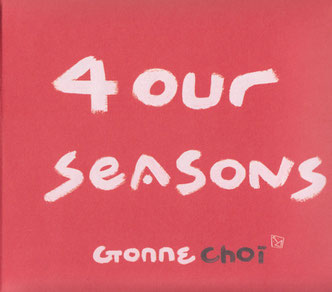 "4our Seasons" by GONNE CHOI