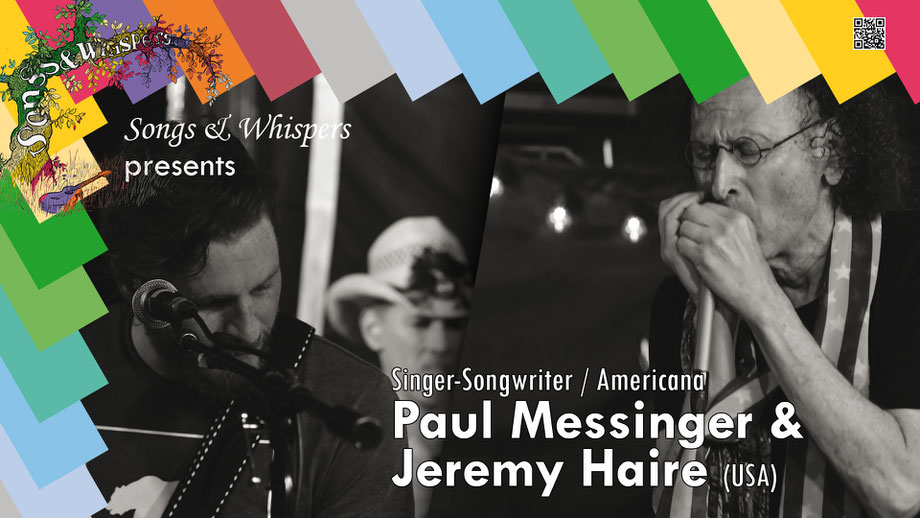 English
After a short tour in September, Paul Messinger returns to Europe with his latest album "The Reckoning" for an extensive tour. Armed with his guitar and harmonica Paul Messinger tackles the political environment of his home country America. Mixing singer-songwriter and Americana, he addresses some of the more delicate topics of 2019 America, gun laws and the sitting president are among the criticized.

This time Paul Messinger is accompanied by his old friend and guitarist Jeremy Haire. After taking a break in September, Jeremy Haire is now reunited with Paul Messinger on stage and supports him acoustically. These two go back and can play with one another blindly.

"The Reckoning" was released on October 11th and is Paul Messingers third album. Recorded LIVE, in-studio with great players such as Robert Sledge (Ben Folds Five), with blazing vocals, and trademark original harmonica seamlessly woven within the textures of sound throughout, this is music heard as it was played, with songs written to provoke, as well as to dance, and even rejoice in our shared humanness. He writes: "We are ALL head-ing ... toward a Reckoning".
german
Nach einer kurzen Tour im September kommt PAUL MESSINGER mit seinem Album "The Reckoning" nun nochmals nach Europa mit einer längeren Tour. Bewaffnet mit seiner Gitarre und einer Mundharmonika ist Paul Messinger nicht verlegen darum die politische Landschaft seiner Heimat zu kritisieren. Mit einer Genremischung aus Singer-Songwriter und Americana spricht Paul Messinger heikle politische Themen an. Die Schusswaffenpolitik der USA oder der derzeitige Präsident gehören zu den Themen.

Er wird begleitet von seinem langjährigen Freund und Gitarristen Jeremy Haire. Jeremy Haire hat die September Tour ausgesetzt, steht nun aber Paul Messinger akustisch zur Seite. Die beiden sind ein eingespieltes Team und harmonieren blind miteinander.

"The Reckoning" ist am 11.10 erschienen und ist Paul Messingers drittes Album. Das Album wurde live im Studio mit so großartigen Musikern wie Robert Sledge (Ben Ben Folds Five) aufgenommen. Flammender Gesang und markante Mundharmonika sind darauf nahtlos in die Texturen des Klangs verwoben. Die Lider sollen provozieren, zum tanzen anregen und vereinen und und an unsere Menschlichkeit erinnern. Auf die ein oder andere Weise erwartet uns alle eine "Abrechnung" so Paul Messinger auf dem titelgebenen Lied "The Reckoning".
---
tour dates
date // venue // street no. // ZIP city //showtime //entrance fee
01.12.19 // Jürgens Räucherkate // Elbstrasse 7 // 19273 Stiepelse // 13:00 // free, donations welcome
02.12.19 // Live-Club Bamberg // Obere Sandstraße 7 // 96049 Bamberg // 20:30 // free, donations welcome
03.12.19 // Hafen Casino // Am Waller Stieg 6 // 28217 Bremen    20:00    free, donations welcome
04.12.19 // Nunatak // Kapitän-Dallmann-Straße 2 // 28779 Bremen // 19:00 // free, donations welcome
06.12.19 // Eiscafé Dante // Lange Straße 40-42 // 21640 Horneburg    19:00 // free, donations welcome
07.12.19 // Shakespeare´s Theater-Pub im Weyher Theater // Am Marktplatz 15 // 28844 Weyhe // 21:00 // free, donations welcome
08.12.19 // Kulturschloss Wandsbek // Königsreihe 4 // 22041 Hamburg // 19:00 // free, donations welcome
10.12.19 // Kirchengemeinde St. Jürgen Holtrop // Kapellenweg 8 // 26629 Großefehn // 20:00 // free, donations welcome
12.12.19 // Spatz&Wal // Hertingerstraße 31 // 59423 Unna // 20:00 // free, donations welcome
13.12.19 // Wohnzimmer im Piepenstock // Schildstrasse 1 // 44263 Dortmund-Hörde // 20:00 // free, donations welcome
14.12.19 // The Liberty Hotel // Columbusstraße 67 // 27568 Bremerhaven // 20:00 // none
15.12.19 // Hart Backbord // Vegesacker Straße 60 // 28217 Bremen // 17:30 // free, donations welcome
17.12.19 // Michaelskirche // Bischofstraße 8 // 27356 Rotenburg (Wümme) // 20:00 // free, donations welcome
18.12.19 // Für Elise // Wartburgstr. 71 // 28217 Bremen // 17:00 // free, donations welcome
20.12.19 // Düne 4 // Dünenfährstraße 4 // 27612 Loxstedt // 20:00 // free
---
Stream "The reckoning" here